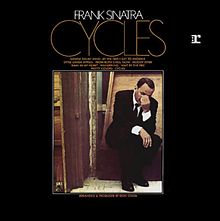 Annons

1969 skulle han göra "My Way" och nå en av sin fantastiska karriärs magnifikaste höjdpunkter.
Men här var det fortfarande 1968 – sent -68, jag var själv drygt ett halvår och ovetande om all den musik som skulle ge mitt liv en större innebörd… – och Francis Albert Sinatra behövde ge ut en ny skiva för att hålla det tempo som fansen och skivbolaget Reprise krävde.
Det blev "Cycles".
Av få ansedd som någon av hans riktigt stora skivor men ändå av hög klass. För mig personligen har den kommit att bli en av senare års favoriter.
Här sjunger Sinatra bland annat "Rain in my heart", han gör mästerligt den av Joni Mitchell skrivna "From both sides, now", han levererar en stark version av Jimmy Webbs "By the time I get to Phoenix" som Glen Campbell hade haft en hit med, han avrundar hela plattan med den sköna "Gentle on my mind" men framför allt gör han titelspåret "Cycles" så avsiktligt släpande elegant som var Sinatras stora mästerskap tillsammans med hans frasering.
När Sinatra sjunger "Cycles" är det hart när omöjligt att inte blunda, luta sig tillbaka och bara vara i nuet. Det är vackert vemod förpackad i den främsta av röster.
"So I'm down and so I'm out
But so are many others
So I feel like tryin' to hide
My head 'neath these covers
Life is like the seasons
After winter comes the spring
So I'll keep this smile awhile
And see what tomorrow bringsI've been told and I believe
That life is meant for livin'
And even when my chips are low
There's still some left for givin'
I've been many places
Maybe not as far as you
So I think I'll stay awhile
And see if some dreams come true
There isn't much that I have learned
Through all my foolish years
Except that life keeps runnin' in cycles
First there's laughter, then those tears.."
Annons